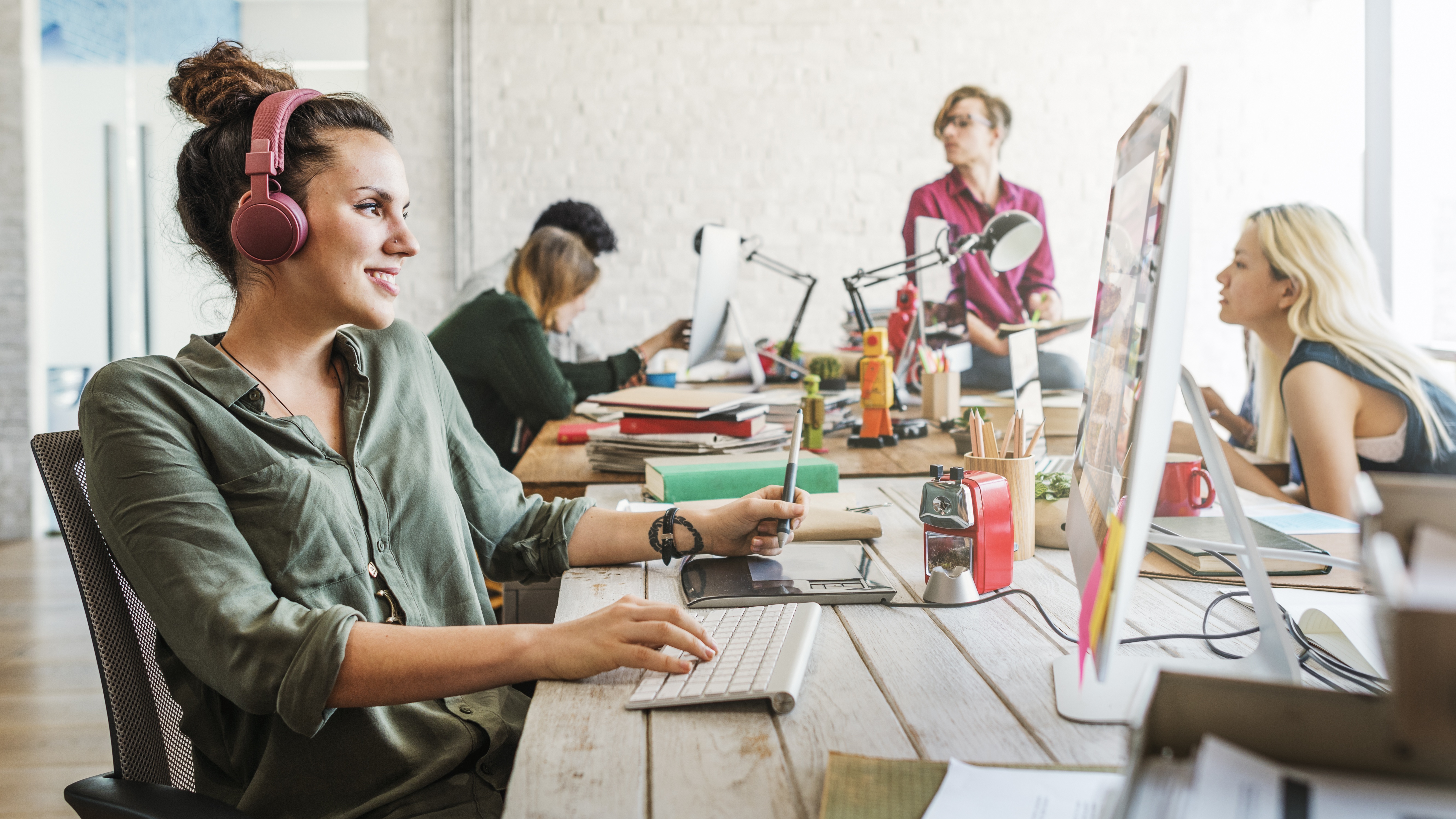 Employees who are music lovers have a big advantage when it comes to boosting their energy in the workplace: it creates engagement and generates a positive mood. Plugging in can help employees regain focus and harness their energy to complete repetitive tasks, especially if coffee doesn't do the trick. Some employers are on the fence about allowing employees to enjoy music while they complete daily tasks because it can be perceived as a distraction rather than a benefit. Find out how music can boost engagement, morale and productivity throughout the day!
Music is an amazing vehicle for time travel; the first note of a song can transport us to places we'd long forgotten about, to memories, smells, sights and times that were buried under the everyday grind.
Music brings people together and can bring fellow co-workers even closer by learning what type of music they like. It creates a platform that's relatable if you find that your cubicle mate has the same interests. Band input allows employees to open up and share "first times" or where they were when they "first heard this amazing band", or learn surprising new facts about artist preferences. Listening to music can provide some excitement to the day and boost morale and engagement across the entire office.
Studies have shown that listening to music increases productivity by almost 90%, especially employees have data entry jobs or those who answer countless emails, such as a customer service based title.


Here are ways music can aid employees throughout the workday:
#1. Focus on work
#2. Absorb information
#3. Stimulate creativity
#4. Drown out excessive noise
#5. Break up mundane tasks
#6. Boost morale

If you're a music lover but you're still skeptical...
Try starting your morning with music that is lively and upbeat. Try taking it down a notch in the afternoon and listen to calming waves of oldies that transport you to a different era or add a tinge of classical to finish out the day when you really need to get creative juices flowing. Music can be inspirational, transcendent and soothing. It can do wonders for a person's work ethic – maybe you'll even find that you begin suggesting this tactic to others who don't make music an integral part of their work day. Turn it up!