Administrative Professionals Week is coming up and if your employee recognition program feels stale this year or you would like to start looking at different recognition options, I have a solution for you: a top ten list of how to thank your administrative professionals this year.
10. Devise quiz questions about your administrative professionals
If you already have an employee incentive program, you probably have a monthly quiz that people can take to earn points. One of my clients decided this year to include bonus quiz questions about their administrative professionals so that everyone could learn more about their co-workers and earn some rewards while doing so. Some of the questions included: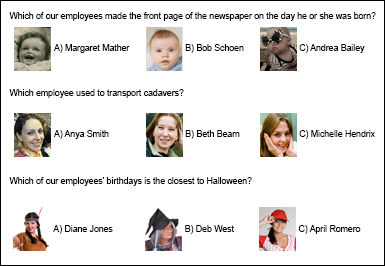 9. Spend time with your administrative professionals
Sometimes all an employee wants is to feel recognized and giving attention to your administrative professionals can go a long way. Take this week to ask how people are doing, get feedback on their workload and any suggestions they have to improve it. Simple employee recognition appeals to intrinsic motivators and can go a long way in making your employees feel like the important team members they are.
8. Present them with a Deluxe Portfolio
Our employee recognition programs feature a customized and personalized deluxe portfolio that is perfect for Administrative Professionals Day. The deluxe portfolio contains a recognition letter, certificate of appreciation, assigned award collection and order form all within a thick card stock portfolio sealed with a silver band. Your team will appreciate the recognition they receive and can even display the portfolio in their workspace.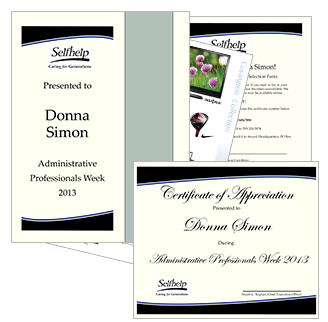 7. Bring in a box of rewards
For this idea, I was thinking that managers could put together a bundle of items for each employee. If you have a large organization, you could coordinate with team leaders to pick out items they think their particular staff would appreciate the most. Some of our most popular items ordered include: Apple iPad Minis with case, Jensen clock radios, Coby 4GB MP3 players, Brinkmann work lights, Skullcandy headphones and Ginsu 5 Piece Knife sets. View our brand name merchandise catalog and you can start selecting items for your employee recognition program.

6. Invite your administrative professionals out for lunch
Our office is very busy and with so much going on, we all like to make it a point to go out to dinner every couple of months. This may not be possible for certain organizations, but especially around this holiday, rewarding employees with free food and catching up with coworkers can be excellent for team building and employee recognition.
5. Put up a message on your company intranet page
Administrative Professionals Week may not be known by all of your employees, so why not let them know about it by posting a message on your company intranet page? Better yet, you can post pictures of your administrative staff for added recognition and remind employees to thank the administrative professionals who make a difference in their work lives.
4. Run a nomination program to elect one or more people professional of the year
If you are looking for a unique way to recognize and reward during Administrative Professionals Week, having a peer nomination program in place could be your solution. Employees can go online and nominate co-workers for demonstrating desired behaviors, such as going above and beyond the call of duty. If you have this program running the entire month of April, during Administrative Professionals Week, you could pick out some of the nominations and give some extra employee recognition to the nominee. I've had clients pick the employees out by random and others consider the reason for the nomination when picking their employees. The people who do receive the extra employee recognition could receive additional points if you have an employee incentive program or receive a special award if you do not have an incentive program in place already.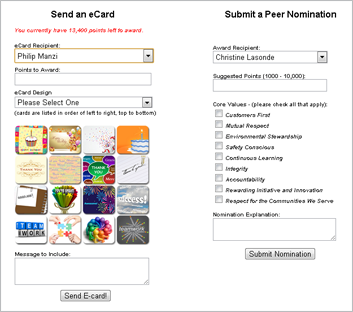 3. Give them a half day off of work
I have heard of a many companies who honor administrative professionals by giving them extra time off of work. If you plan the absences and stagger them, you can make sure your office is still staffed enough to manage the normal work day. Time off is just one perk that you can give, I recommend pairing it with another employee recognition idea off of this top ten list.
2. Surprise them with company-wide recognition
How neat would it be for your administrative professionals to come into work on April 24 and find a stack of letters and/or bunch of emails from their co-workers thanking them for all they do? What about if you coupled this employee recognition with a sweet reward like an MP3 player or digital camera? If you want to make a statement to your administrative professionals that they are appreciated and essential to your business, I think this is a great way to do so.
1. Ask them how they'd like to be thanked
What is the best way to find out how your administrative professionals would like to be recognized during Administrative Professionals Week? Just ask them. Or better yet, print off this list and ask each to rate their top three picks. If you are looking for a personalized approach that can be managed on a wide scale, this could really help you decide what to do.