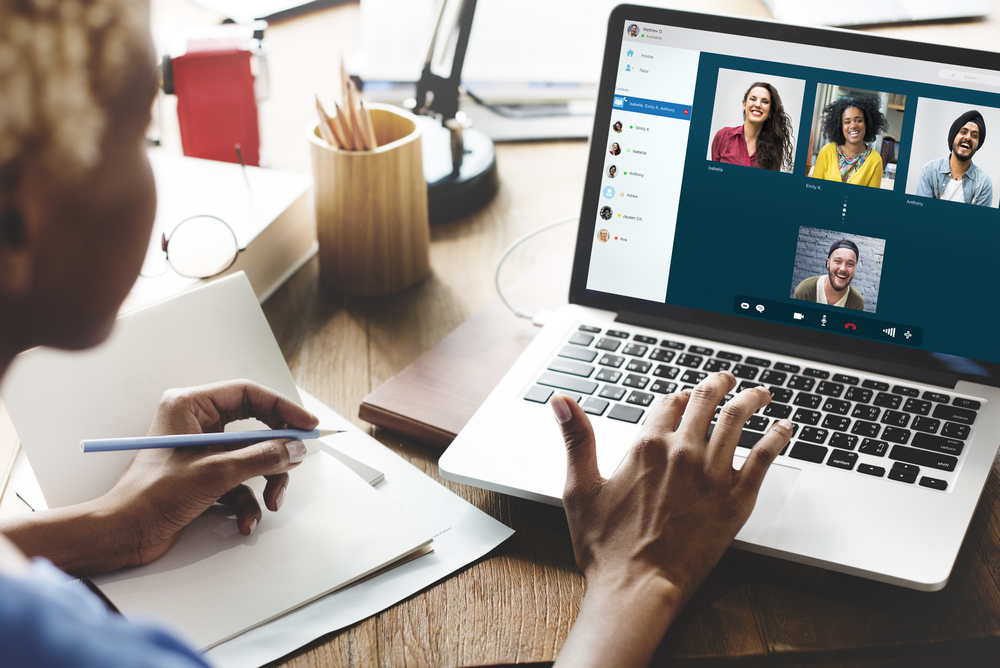 Part of building and sustaining an engaged workplace culture is being prepared to adapt to sudden changes as a team – even during a global crisis. While most of us are many days into self-quarantining and practicing "social distancing", your employees may be experiencing inadequate work-life balance. Take a deep breath (at least six feet away from anyone else) and read through our achievable tips for your organization during this period of uneasiness. We are all in this together!
Have a Plan in Place
The health and well-being of your organization is of utmost importance to protect. If you haven't yet, we highly recommend brainstorming and implementing an effective strategy for your office as a result of the coronavirus outbreak. Here are a few tips:
- Call a meeting with leadership to discuss measures that need to be taken. Discuss precautions specific to your company to safeguard your team and their focus on goals.
- Come together and talk about what's going to work best for everyone to avoid illness while maintaining performance. We're not asking you to develop a 20-page handbook before end of day, but at the very least, create a spreadsheet with emergency contact information from every individual in the office to ensure you have a way to contact your team and update them on the latest office protocol.
- Determine which procedures will continue to stay on target and what projects will need to be put on pause. Maybe your customer service department can carry on without missing a beat, but your sales-force might need to make a few changes and conduct meetings with prospects online instead of in-person.
- Consider an employee award program to keep your employees' spirits up and to strengthen your engaged workplace culture. They need acknowledgement during this time of stress and difficulty. Your job is to be a cheerleader for the team by recognizing the work your employees are accomplishing.
Remote Work
Millions of people are shifting to working from home in an effort to reduce exposure to the virus. If your employees have the capabilities to work remotely, chances are your office is likely vacant.
The home can offer a plethora of distractions, so encouraging your employees to create a designated office space for uninterrupted productivity is essential. Some employees who haven't experienced working from home may feel pressured to overextend themselves, so make sure you remind them to break for lunch and to take periodic breaks in between.
Meetings should remain on your employees' calendars as scheduled but should take place via phone call or video conferencing while we're reducing face-to-face interactions. If your company hasn't jumped on the remote work bandwagon, now is the ideal time to explore this route, especially since the CDC has recommended telecommuting.
During this remote period, make it easy for managers and team members alike to publicly appreciate employees, even while working from home. Custom incentive programs are a great way to continue to encourage staff to accomplish targeted goals and keep employees connected no matter where they are located. This will help ensure that remote employees who are out of sight, aren't out of mind."
Ramp Up Communication
There is no such thing as over communicating. Maintaining relationships and social connections with your entire team is crucial, especially when working remotely. From daily email updates, to asking a quick question via text, to early morning video calls where everyone brews coffee can boost morale - keeping your team informed and engaged is imperative now that most of us are out of the office (pro tip: you don't have to change out of your slippers for a video call).
Build team trust and camaraderie by checking in with employees to see how they're handling the current state of affairs, both personally and professionally. Encourage peer-to-peer recognition among teams, as a virtual 'great job' goes a long way. Most of us are feeling unstructured and isolated, so it's important that all your employees' voices are heard to support your engaged workplace culture.



Flexible Hours
With the coronavirus forcing schools to close across the country, some of your employees have children who are not in school right now. This can mean they are adjusting to the new rhythm of pulling triple duty: parenting, working and teaching from home.
You can support your team by allowing alternate work hours that accommodate their lifestyles at the moment while they juggle the needs of their families and their jobs. They may have to start work early in the morning before their kids wake up, or late at night after their kids fall asleep. For the thousands of parents who have the ability to work remotely, this means extra challenges when trying to balance the demands of work life and home life. Be patient with your team members who have children who are home from school, as they are still learning what will work for their household for the weeks to come. Promote transparency among your employees about having to step away for their kids. This will better manage expectations and prevent increasing anxiety or stress.
Stay in Touch
With the coronavirus rapidly changing how companies operate, communication is paramount right now. Many businesses have taken to email and social media to communicate clearly with their customers and employees regarding how they're handling things day to day. Share any increased hygiene protocols you're following and let them know if your hours of operation are affected. Set the tone of understanding and empathy and be forthright about what your business is going through. We're all vulnerable and at risk – no matter what race, creed or gender you are, everyone is facing this crisis together.
We recognize the days ahead will be challenging, which is why we suggest taking these steps to take to mitigate risk, protect your employees and support your customers during the COVID-19 pandemic. It might be a while until your business gets back to normal, so try to remember you cannot change the situation, you can only change the way you react to it, and positively influence the way your employees react to it. Inspire your team to be thoughtful about what they're doing throughout the upcoming months to stay connected and continue providing excellent service. Let's look at the silver lining - we're cleaner than we've ever been as a society, and our pets are elated to have us at home these past few days. Resilience, mutual support and positive attitudes are sure to make this time go by with more joy!